Date: November 16
Through the latest edition of its annual survey, Climascopi, BloombergNEF (BNEF) revealed that policymakers in emerging markets and developing economies are raising their sights when it comes to renewable energy. The research firm claims that more than nine out of 10 developing countries have publicly committed to installing and consuming certain volumes of renewable energy with specific timeframes.
That, according to BNEF, is an increase from 82% a year earlier and 67% in 2019. Possible reasons for the shift could include a desire to demonstrate progress ahead of the COP27 global climate talks, anxiety over energy security amid rising fossil fuel prices, fears about climate change, or simply the lure of building renewables because they are affordable.
BNEF explains that with respect to emerging markets' long-term clean energy goals, these can only be met if policymakers adopt complementary implementation policies. According to Climatescope, no less than 56% of emerging markets now have policies to conduct reverse auctions for clean energy supply contracts, up from 49% last year. The popularity of net metering has also grown, with such policies implemented in 53% of emerging markets in 2022 compared to 49% last year. Additionally, 30% of emerging markets have established feed-in tariffs, which increased from 27% in 2021.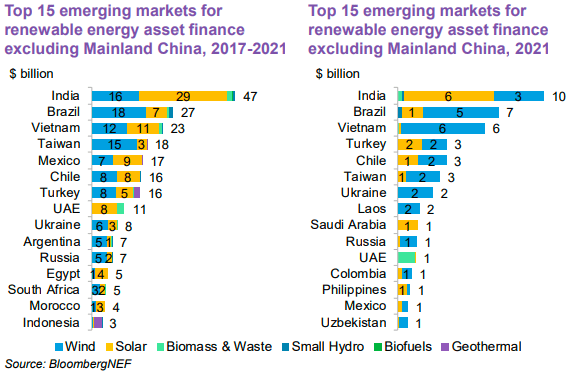 There is still much to be done
The report notes that the gap between long-term goals and short-term implementation policies suggests that policymakers have a lot of work ahead of them. Even in countries that have promised to adopt renewable energy auctions, net metering, or feed-in tariffs, follow-up may be lacking.
"Without supporting regulations, policy implementation alone cannot guarantee that a country will attract the amount of investment needed to start its energy transition. Among the 15 developed and emerging nations that finished at the bottom of the Climatescope energy policy scorecard, only one managed to secure more than $2 billion in clean energy investments between 2017 and 2021," explained Sofia Maia, manager of Climatescope projects.
For his part, Ethan Zindler, head of research for the Americas at BNEF, said that "a program to carry out reverse auctions for clean energy delivery contracts is only useful if a country actually runs such auctions. We have seen many examples of countries that set long-term goals, passed short-term policies, but failed to implement them properly."
Source: Review Energy